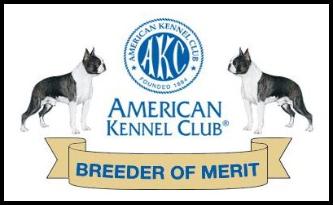 Cosmo's Boston Terriers
#1 Stud Dog "2002, 2003, and 2004"

Champions 2005

CH. DAB'S Scoot-N-Scottie
His parents Cosmo X CH. DAB's Lil' Scream-N- Shout Owned & loved by the Glen Crow family and then loved and handled by his grandma Beth Griner.His 1st show last weekend (10-16-04) at exactly 6 months 2 points (missed a major when one dog didn't report in) His 2nd show ditto (10-17-04) 6 months 1 day old earned a 3-point major going BOW-BOB over 2 Specials! Completed championship on Jan 7, 2005
CH. Sunwoods E-Z Spirit
CH. Sunwoods E-Z Love X Cosmo
Spirit, a member of the Sunwoods Royal Family, rocked the ring at his first show. He was appointed WD & BOW for a 3-point major. Spirit, is smooth and stylish, radiantly emitting his presence to all that admired him. He ascended to his championship in the tough and highly competitive Florida Show circuit earning WD & BOS.
CH. WYNDSONG'S WHO'S THAT GIRL
Baby Celie, Bred, Owned and loved by Debbie Kilpatrick & Stephanie Krewson of Wyndsong Bostons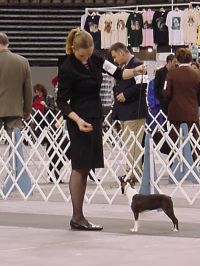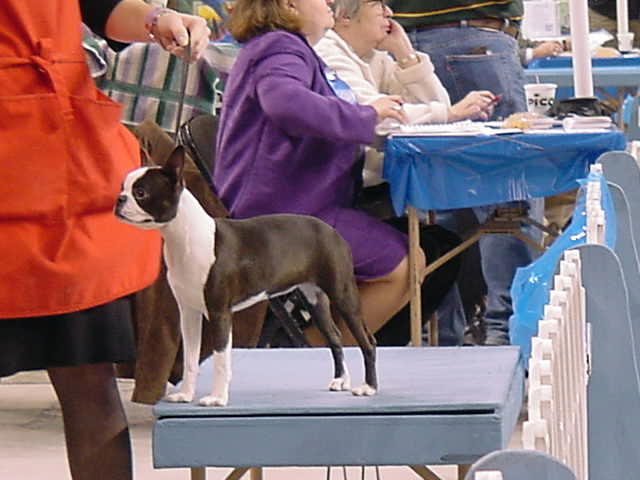 CH. Sharon Valley's Cosmic Dancer
Sharon Valley's Cosmic Dancer aka, Piper
She's loved, bred, and eloquently presented by: Sharon Stoll. Piper is proud champion # 8 for CH. Sunwoods Ambiance and Cosmo. Completing her championship on May 1st 2005, with 3 majors...2 back to back at 4-points in Wayne County, Michigan.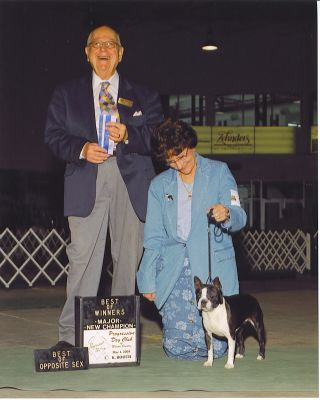 Ch. Elite's Win-Win Situation Aka Brady
Brady's Mom: Elite's Miss Hollywood "Hollyn"
Brady was bred, owned and loved by Wendy and Joe Orgren
Meet Brady, a true Brindle Hill Elite earning BOB at his 1st show out! His second day in the ring he was awarded WD at the powerful and prestigious2005 New York Specialty for a 4-Point Major. Congratulations to Brady andhis handler, Mr. Chad Howard who presents him so elegantly, and to Wendy &Joe Orgren. Completeing his Championship on May 22, 2005.
Ch. Wyndsong's Bella Como-Politan "Martini"
She is loved and owner-handled by Dot & Jim Leverett
CH WYNDSONG'S RADAR LOVE
"Radar" is loved and owned by Carol and Gary Moore and Morgan Terry. His Dam is CH Wyndsong's Crazy Over You. He finished August 13, 2005.
Champions in 2013
Champions in 2012
Champions in 2011
Champions in 2010
Champions in 2009
Champions in 2008
Champions in 2007
Champions in 2006
Champions in 2005
Champions in 2004
Champions in 2003
Champions in 2002
Champions in 2001