BISS. Ch. Flashpoints Cosmic Ray, Rom L
Loved and co-owned by: Jeri Good & Jill Ritchey

pedigree
Cosmo's Bostons, is the proud home of M-BISS CH. Flashpoint's Cosmic Ray, ROM (record of merit), and the wonderful Cosmonauts (kids of Cosmo). Cosmo is the Top Producing Boston Terrier Stud Dog, this millennium. This stealth 17.8 pound Boston Terrier, dynamo has sired over 55 American Champions to date. Cosmo's family have been a dominate force in the Madison Square Gardens this decade. Read about Cosmo's impressive Westminster Kennel Club connections.


2002 Best Of Breed
12 Ch Sharon Valley's Lil' Maggie B (Daughter: Maggie B)


2003 - Best Of Breed
21 Ch Flashpoints Cosmic Ray, ROM (Self: Cosmo)


2004 Best of Opposite Sex
10 Ch T-Bo's Only Time Will Tell (Granddaughter: Kiwi)


2005 Award of Merit
12 Ch Klassic Irish Prince (Son: Kip)


2006 Best of Breed
18 Ch Klassic Irish Prince (Son: Kip)


2007 Best of Breed
22 Ch Klassic Irish Prince (Son: Kip)


2008 Best of Opposite Sex
17 Ch Sunwoods Lamburgini (Grandson: Dylan)


Remember these prominent Bostons? Cosmo is the common denominator --Proud Sire and Grand Sire of these to name just a few.

Proud Sire:
Paddy, Brady, Rocket, Cowboy, Dolly, Simon, Galileo, Rocky, Skye
Tori, Jive, Vice, Howie, Nitro, Dawson & Lucy

Proud Grandsire;
Dylan, Butler, Kiwi, William, Hoss, Breeze, Regis.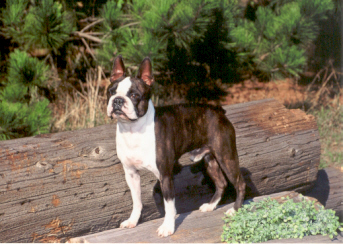 Cosmo, DOB March 6, 1999
COSMO, the canine of many talents, for stellar performance inside the ring or leaving his lady friends starry-eyed. This most eligible bachelor exhibits a stealth appearance, reflecting the standard and possesses a charming attitude. Romancing with Cosmo is an intergalactic experience. He has consistently turned the heads and grabbed the hearts of the most beautiful babes prancing our planet.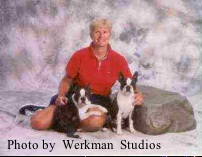 Showtime! Iowa First Win for this Boston Terrier Cosmo was initiated to the ring in Des Moines, Iowa. At the Hawkeye BTC Specialty he was honored with Best in Sweeps and RW Dog. At the Mt. Keomah KC, a 3-point major. He was only 6 months and 7 days old! *(Photo by Show Photo)<.p3>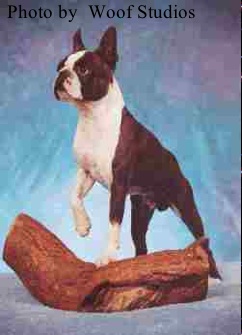 Champion Boston Terrier Cosmo Cosmo earned his championship on November 27, 1999 in Merrillville, IN at the side of his handler Imogene Brown. Judge Joe Gregory awarded them their 5th major win enroute to his championship title.
Western Boston Terrier Club 2009 Specialty Show

As a veteran, age 10 years old, Cosmo enjoys the ring once again, expertly presented by Deb Ecarius at his side. The excitement and applause ignites Cosmo as he enjoys pleasing his fan club and other friends around the ring. Watch for Coz, # 14 from 2:42 - 3:22 and again 3:36 - 3:51 at Chicago's Western Boston Terrier Club Specialty Show in June of 2009. (Deb is attired to match Cosmo with white Jacket and black slacks.)