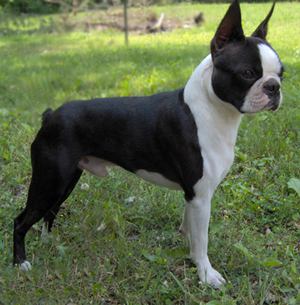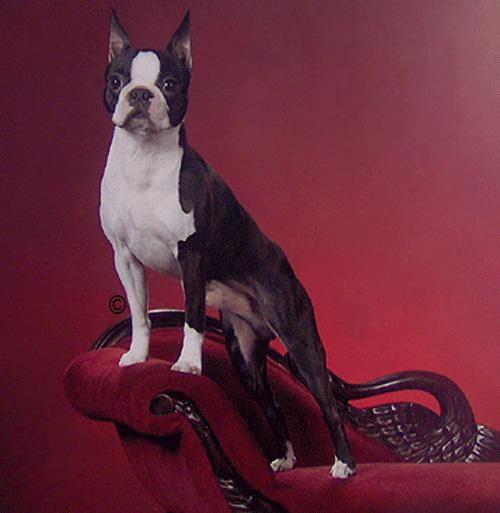 CH Design Dangerous Liaison "Gatsby"
Owned/Bred/Loved & Handled by Deide Carpenter
DOB: 1-22-2004 10:30 a.m.
Cosmo X CH. Sunwoods Seductive Rogue
Dawn, CH. Wyndsongs Pretty Midsummer Morn
She finished her Championship at Big Spring KC May, 6 2006
Ch Flashpoints Cosmic Ray x Ch Wyndsongs Crazy Over You.
OWNED & Loved By: Dorothy Snowden & Debbie Kilpatrick.
JUDGE: Mrs Robert S Forsyth
CH. HCA Cosmo's Key to My Heart "Harry"
Bred, Owner-Handled & Loved by: Virginia Hoffman,
Anchorage, Alaska Happy Chance Acre Bostons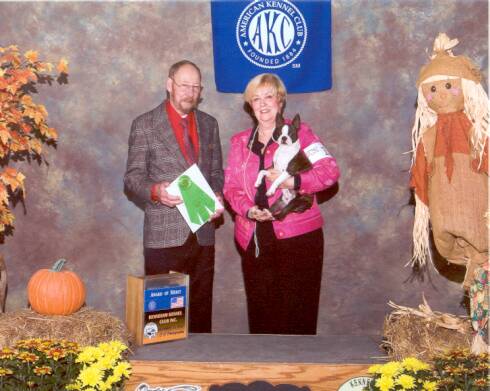 "Sugar"CH. Alexander's Sugar Rush
Loved, Bred & Owner Handled by Linda & Dr. Jim Alexander
October 27, 2006 Greater Atlanta Boston Terrier Club Specialty.
Ascending to the championship plateau was a sweet experience for Sugar. Arriving at the Atlanta Shows with one show and one point under her belt……Her storybook weekend began. Sugar, eloquently presented by Linda Alexander, commanded the attention of the judges and remained undefeated.

She led off with a 4-point major Followed by a 5-point major, Best of Breed & a Group 3.

This was a day to remember, as later that evening Sugar competed in the prestigious Atlanta Boston Terrier Club Specialty, where she garnered another 5-point major, and the only Ribbon of Merit to finish her Championship.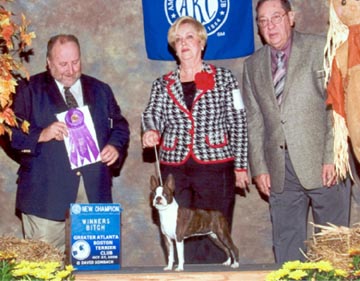 CH. Charue's Aba Daba Baby
Abby presented here by Rebekka Owned by:La Rue
HCA Cosmo's Key to My Heart
Harry, in his second day in the ring took a BOB & Group 3 under Judge Jean Fournier Sunday, 1-23-2005 at the Alaska Kennel Club Shows. On Saturday he took a Best of Breed at he Kenai KC show under Dr. Sabella his 1st day in the ring. Harry is proudly bred, owned and presented by his Mother, Virginia Hoffman
"Toby" Sharon Valley's Cosmic Commander
Owned & Bred by: Sharon Stoll
Martini
Owned & Loved by Dot Leverette
Bred with Pride by: Debbie Kilpatrick & Stephanie Krewson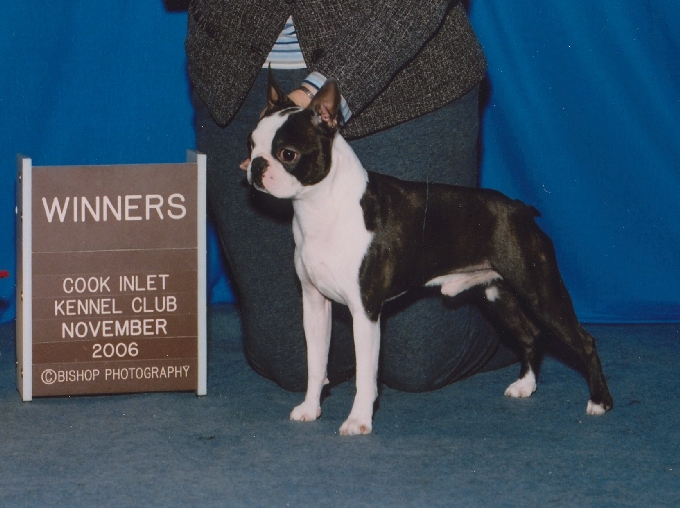 Pippin
Introducing another Alaskan Son.....Pippen!!!!!
Bred, Owned, Loved & Presented by Virginia Hoffman
Champions in 2013
Champions in 2012
Champions in 2011
Champions in 2010
Champions in 2009
Champions in 2008
Champions in 2007
Champions in 2006
Champions in 2005
Champions in 2004
Champions in 2003
Champions in 2002
Champions in 2001