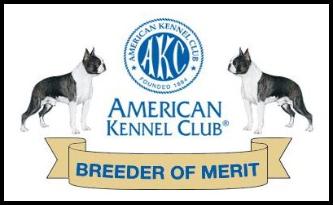 Cosmo's Boston Terriers
Sunwoods Cosmic Commander "Caden"
Sire: M-BISS CH Flashpoint's Cosmic Ray, ROM --- COSMO
Dam: Sunwoods Gambler's Dream QE2
DOB: November 14, 2009

Caden Michael Cosmo Good was born on November 14, 2009. Growing up he shared his childhood with Amelia, Carlee and Dora the Cosmic Explorer. It was tough having 3 sisters chasing him around the yard. Caden is sweet and tender. He enjoys hopping in the wading pool to cool off on warm summer days and playing king of the mountain on the family's Little Tikes picnic tables. Very stealth, this sharply dressed man looks forward to owning to the show ring in late spring 2012.

update: March 2013:
CH Sunwoods Cosmic Commander "Caden Michael"
finished his AKC championship in a hotbed of competition at Louisville, Kentucky. He garnered a 4-point major under respected Judge Arley D. Hussin at the morning Louisville Specialty Show.
On Saturday, esteemed Judge Edd Bivin appointed Caden as WD & BOW allowing him to capture his second 4-point major of the weekend and stylishly finishing his championship alongside Debbie Ecarius. Caden was thrilled and is now back home relaxing on the sofa as a part time couch potato. We are grateful that the judges recognized his merit among so many "beautiful Bostons."
Caden's record included two 4-Point majors, a 3-point major and a best of breed.
"Good Boys"
Caden and Nitro are inseparable as buddies and best friends.
They enjoyed striking their "tough guy" poses even though it was hard for them not to laugh!! (Woof Studios)
Caden strikes a pose as he strolls on the pier at sunset on Lake Manitou. (Woof Studios)
Caden alertly awaits his next command. Check out his sweet little baby face! (Woof Studios)
Graduation Portrait Class of 2012
Relaxing on a starlit evening.....
Caden appointed Best of Breed, presented by Cammie Brunning at the Cedar Rapids Kennel Club Show.
Caden earns a Best of Winners and 3-point major at the Hoosier Kennel Club Show
under the guidance of Deb Ecarius.